Joseph LE, Super Scale Journalist

---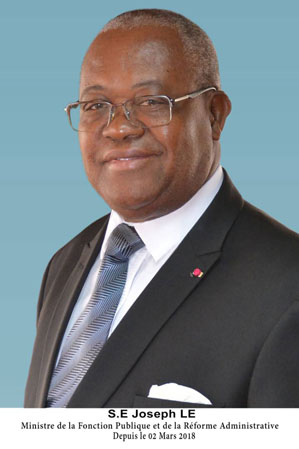 Joseph LE, Senior Journalist (Super Scale) and Politician, was born on 19 March 1959, in Nkol-Mvolan, Abong-Mbang Sub-division, Haut Nyong Division of the Region of East.

A pure product of the Cameroonian educational system, he obtained his Baccalaureate certificate (series "B", Economics) in 1982, at the Technical and Commercial High School of Yaounde. He studied at the Higher School of Information Science and Techniques (ESSTI) in Yaoundé, from where he graduated with a Diploma in Journalism in 1985. Later, this son of Jean SEMBONG and Marcelline MBOUNG, in 1993, obtained another Diploma in journalism, this time around, specialising as Political Analyst, from the Higher School of Information Science and Techniques (ESSTIC). This solid training has been supplemented by several internships and post-graduate courses in Germany, Canada, the United States and France.

Professionally, this worthy son of the East Region began his career in 1985 at the Television Unit which a few months later became Cameroon Television (CTV). He served as Deputy Service Head of Provincial Programmes, Deputy Service Head of Documentation, Service Head of magazines and Service Head of the Special Reporting Brigade.

In 1997, he was promoted to the rank of Senior Reporter with rank and prerogatives of deputy director of the central administration. In 2000, he attained the prestigious rank of editorialist, and was appointed Head of the Presidential Coverage Unit at the Special Reporting Brigade, then Head of the Special Reporting Division (Director) in 2005.

His humility, devotion and loyalty to the President of the Republic, earned him the appointment on 6 March 2006, as Technical Adviser/ Head of the Communication Unit at the Civil Cabinet of the Presidency of the Republic. Then on 4 April 2007, he was promoted at the prestigious post of Deputy Director of the Civil Cabinet of the Presidency of the Republic; a position that he occupied until his entry into Government on 2 March 2018, as Minister of the Public Service and Administrative Reform.

Chairman of the Board of Directors of the Cameroon News and Publishing Corporation (SOPECAM), and alternate member of the Central Committee of the CPDM, the current MINFOPRA is Grand Officer of National Order of Valor (Cameroon) and Commander of the Order of Merit of the Italian Republic. Minister Joseph LE is married with four children.
E-mail: This email address is being protected from spambots. You need JavaScript enabled to view it.